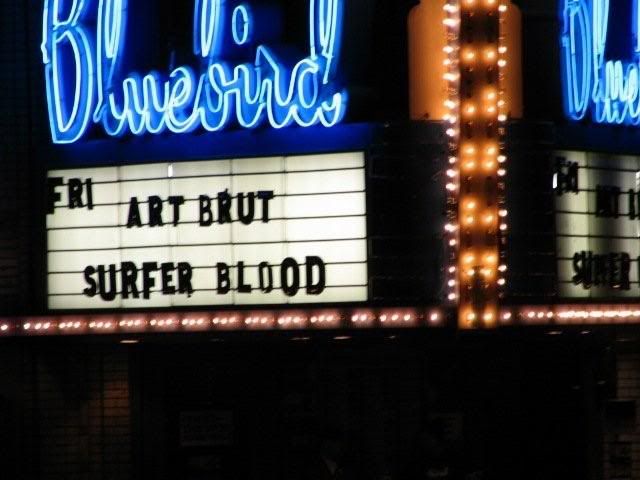 Last Friday, we sent C=T contributor Molly Müeller to catch the first in a wave of buzz shows to slam Denver.
Art Brut-DC Comics and Chocolate Milkshake [mp3]
Surfer Blood-Swim (To Reach the End) [mp3]
The opening act for Friday night's Show at the Bluebird, Jim McTurnan and the Kids that Killed the Man appeared to be playing mostly to a small group of friends; it was early and there were just a few people gathered around the front of the stage. This made it difficult to get into the show but hey, any band with a cute boy in a striped shirt playing the tambourine (Nathan) is alright by me. The Denver band has some great guitar work and put on a pretty decent show considering that this "was only their tenth show ever" and they were playing with a broken snare drum.
Surfer Blood came on the stage to all red lighting after several Billy Idol Songs played over the P.A. First impressions: these kids from West Palm Beach Florida are serious about music; the guitar player has a red Gibson SG like Angus Young and uses a ridiculously rare '66 Super 6 Reverb amp…these were only made for one year…excellent sound but it takes two people to haul the thing around from venue to venue. The show started with "Moving to the West," which has subtle surf undertones and would make an excellent end-of-summer make-out song. They reminded me of Weezer with the melodic harmonies and intentionally out of tune vocals that at times turn to shrieks and screams. The band uses reverb and noise to it's full effect; during one song the guitarist set his guitar on the floor behind him and played a "solo" piece by had with his pedals…now that's the kind of loud "sounds like it's a mistake if this were a mainstream band" kind of shit this girl likes to hear! My favorite song started with a Hawaiiana-esque guitar intro that busts into some incredible bass and is sprinkled with sugar sweet vocals. This was by far my favorite song in the set. With the audio assault occurring you would expect that the entire band would be jumping all over the stage…not true! It appears that all of the energy is channeled thru the keyboardist/percussionist…a tall dude with a Euro-fro who jumps around, shakes a maraca and bangs away on a tom-tom drum and I think temple blocks. The band has untapped potential so it will be fun to see what they do next.
By the time Art Brut appropriately came on stage to "Smoking' in the Boys Room" house music, a small but respectable crowd had gathered for an onslaught by front man Eddie Argos and the rest of the band. Freddy Feedback was wearing a silver cocktail skirt and the drummer didn't sit down once. Argos could be described in so many more poignant words but I have to give the first that came to my mind – uproarious! Dressed in black slacks, a grey button up shirt tucked partially in and a skinny black tie, Argos comes across as an irreverent British snob (or reverse snob), spiting out pre- and post- song commentary before you could analyze the last song in the set. He pointed one finger in the air or flung both arms out to the side while he informed us there would be "two songs about D.C. Comics" and shouted "Let's glamorize bad sex!" As Argos climbs through the crowd during "DC Comics and Chocolate Milkshakes" I start get excited about DC comics and chocolate milkshakes, and I'm not particularly fond of either! My favorite part was when he said that he loved Piggy Pop's song the passenger because he thought it was about riding around in buses and trains and was disillusioned when he found out the song was about riding around in the back of a limousine doing heroin. He explains "he can't relate" and promises "we are going to rectify the situation" and performs their version of "The Passenger," which is about riding around on buses and trains. This was my favorite song of the night. There was a song about drunken texting with killer guitar riffs and an infectious encore performance of "Alcoholics Unanimous" and a drum solo…that's right, a freaking drum solo! From the sound the crowd was making by the end of the show, you would have never guessed there were not that many people in attendance. Shame on you, Denver! Don't miss it the next time they come through.
Word and Photo-Molly Müeller