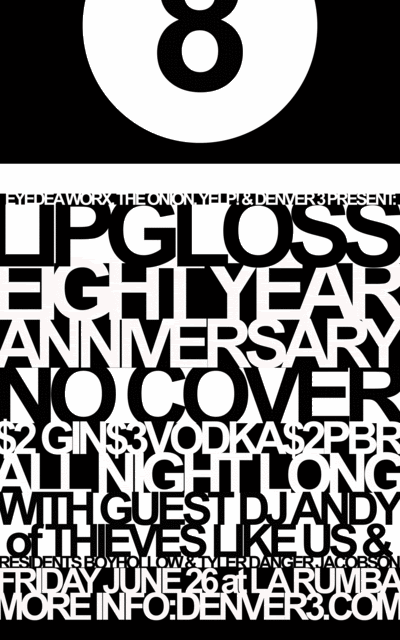 DJs Boyhollow and Tyler Jacobson do so much for us in the 303 . I can't believe it's already been eight years.
Thieves Like Us-Drugs in My Body [mp3]
The Lipgloss Eight Year Anniversary w/ Guest DJ Thieves Like Us – NO COVER!
Friday, June 26, 2009 at 9:00pm
Lipgloss@La Rumba
Join Lipgloss resident DJs Boyhollow & Tyler Jacobson and special guest DJ Andy of Thieves Like Us (Paris – Kitsune Records) to celebrate 8 years of Lipgloss! Visuals on the big screen by An-Ism.
To make the party even better, we're not charging any cover all night long – free entry from open to close!
This is also the Official Launch of our Recession Busters Specials: We're still free until 10pm, but now we'll also be only $3 until 11pm, and we've added $3 Vodka to our already dirt cheap $2 PBRs & G+Ts! Save a little cash and get the best dance party in town? Damn straight.
The Lipgloss 8 Year Anniversary is sponsored by Eydea Worx, The Onion, Yelp & Denver3, and we thank them. Support local business & the independent music scene!